European Tour 2014 / UK Dates – March 2014
The Return Of the Monks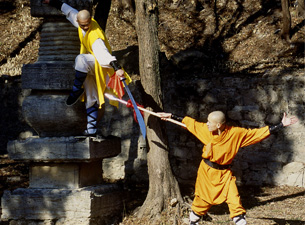 Masters of Shaolin Kung Fu, originating in China, tells the story of the Shaolin Monks in a totally new top class stage production. Traditional Shaolin Kung Fu fighting coupled with entertainment, perfect choreography, lavish lighting and sound, as well as impressive authentic scenery.Some of the best Shaolin Kung Fu fighters have been assembled for this show and will certainly eclipse any previous Kung Fu performances. Masters of Shaolin Kung Fu will take the audience on an exciting journey through the incredible world of this ancient martial art. Spectacular weapons and combat demonstrations as well as breathtaking Qi Gong exercices show the harmony between the outer energy, Gong, and the inner power, Chi, the unity of body and mind. Through this performance which lasts approximately two hours, the spectator experiences not only the history, philosophy and tales of the Shaolin monks but also sporting performances not usually found in this country. In short, Masters of Shaolin Kung Fu, shows this art in its original form. The UK dates for "Master Of Shaolin Kung Fu" are as follows
Sat 22nd March 2014 London, The Forum
Sun 23rd March London, The Forum
Ticket prices start at £29.50 (subject to booking fee). There is also a special strictly limited £99.99 VIP ticket. The VIP ticket allows early entry and exclusive demonstrations from the Shaolin Monks – who will perform their stunts and explain their techniques, plus signed poster and t-shirt.
Tickets are available from www.ticketmaster.co.uk from 9am GMT 14th Oct 2013. Direct link is
http://www.ticketmaster.co.uk/Shaolin-Monks-Wheel-of-Life-tickets/artist/837946
Shaolin Kung Fu: A History
In the province Henan, in the heart of China, we find the legendary monastery of Shaolin (young forest / wooded mountain). This monastery was the spiritual and Buddhist centre which played a major role in forming the philosophy of the East. It is here that you find the roots of Shaolin Kung Fu ( Kung Fu = master of endurance and strength).Around 500AD the Indian monk Bodhidharma, the 28th successor to Buddha, crossed the Himalayas into China and settled in the monastery. From here he began to spread Chan Buddhism (Zen). In nine years of meditation, Bodhidharma, called Da Mo by the Chinese, developed 18 physical and breathing exercises designed to help the monks to stay relaxed and mentally alert. These exercises made it easier for the monks to cope with hours or even days of meditation. Thus he laid the foundation for Shaolin Kung Fu as well as numerous other martial arts. According to the teachings of Da Mo, martial arts are not intended to foster the promotion or practice of aggression. On the contrary, their purpose is to develop a healthy body and mind. The basis of Bodhidharmas philosophy is quality such as discipline, modification, bodily control, and above all, respect for human life. Over the years, the monks of Shaolin continuously refined their arts. The fighting techniques were mainly adopted from the attacking or defending movements of animals. In this way were born famous fighting styles such as monkey, dragon, tiger, in all its variations during the Masters of Shaolin Kung Fu performance. The Shaolin Kung Fu, developed and perfected over 1500 years forms the basis of all Kung Fu fighting. As a philosophy towards life and a form of physical training it will survive for thousands of years and influence many generations to come.
For more information please contact: Duff duff@duffpress.co.uk + 44 (0) 207 736 7611 / 07904 385308